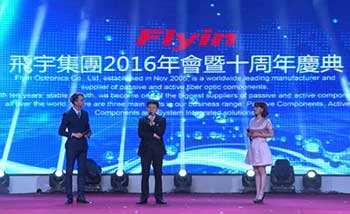 How time flies! Blink of an eye-one busy year has passed, looking forward to coming to us in 2016.The 2015 Annual Gala by Flyin will be kicked off with the title 《Stay together》 in 16th Jan, 2016.
We will share each wonderful moments in the Annual Gala and the General Manager Mr.Liu expressed his gratitude to his hard-working employees , stated the achievements of 2015 and analyzed the industry developing trade in 2016.In the meantime,He encouraged us to redouble our efforts to make more progresses and achievements in the new year in stead of slacking off our work.
Fantastic programs, interactive games,exciting sweepstakes,singing,applause and cheers were rippling in the field.
Gala was full of brilliant contents and a moving video touched everyone.All our employees showed their best wishes to Flyin and blessing of our colleagues. Title with prize"Outstanding Employees"also awarded, which to award their hard contribution in 2015 and an encourage to all of us in 2016. Novel and unique performance brought a visual beast for the present leaders, guests and the whole audiences.
The Annual Gala finished successfully with the splendid music. 2015 has been away from us, 2016 will be an extraordinary, and saltant year, we will keep on working,learning and solving all kinds of difficulties to create greater success.