Single Channel EDFA for Telecom
The product is high stability output power EDFA. The stability Pump Laser and unique ATC (automatic temperature control) and APC (automatic power control) circuit are employed in it as the key component to ensure the high stability and reliability of output power. The unique optical circuit design ensures the excellent optical character. The high stability and high precision MPU system are employed to ensure the control adjustment and display is intelligent and easy.
The optical circuit is specially designed for digital optical fiber communication system including:(1)lower noise figure;(2)high output booster and high sensitivity Pre-Amplifier improve the system loss budget(3)Broad input power range and output power adjustable make it use easily .
The design of dual power mixed hot swap make it has longer MTBF. Also the power system can be backup.Employ the intelligent temperature control system, the fan is on when the module temperature above 45℃, meanwhile it will stop as the temperature is below 40℃, which ensure the thermal stability and fan life-time. Professional air duct design ensure the best temperature stability.
Intelligent monitor and manage system. Perfect network management interface: RS232 RS485 and Ethernet, and the open mib ensures the connectivity with all network management system.
Features

Applications

Low Noise Figure: Typical 4.5

Pre-Amplifier

High Flatness: Typical 1dB

Online Amplifier

Cover Whole C-Band: Carrier 40 or 80 CHs

Booster Amplifier

Redundancy hot swap power module: 110/220VAC and 48VDC can plug Mix

DWDM Optical System

Perfect Network Interface: Ethernet, RS-485 and RS-232 port

Support Telnet Interface and SNMP network management

Gain can be adjustable by network and manual

High precise AGC and ATC circuit

High saturation output power

Flexible Mechanics and circuit structure(Module,1U rack and Gain Block)

Compatible with Telecordia GR1312-CORE
Mechanical Structure
????483*236*44(mm)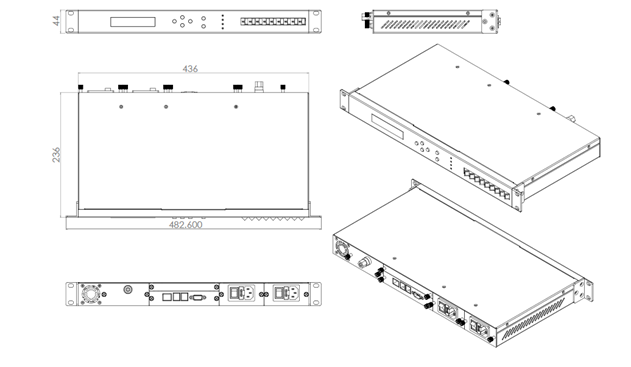 ---
The production workshop show